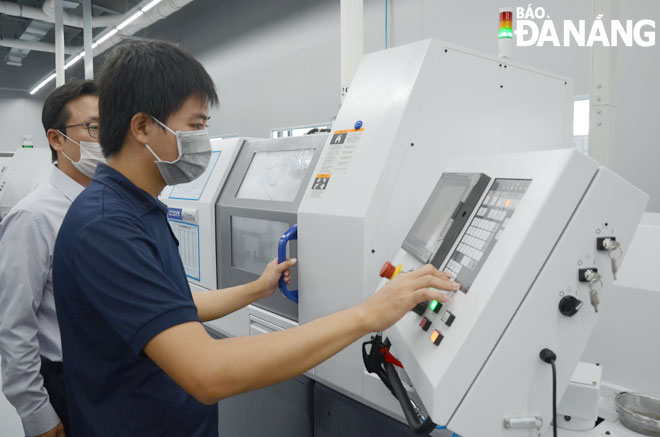 Picture taken at ICT Vina Company located in Da Nang Hi-tech Park in Hoa Lien Commune, Hoa Vang District
In the first three months of 2021, Da Nang attracted 9 new FDI projects with a total registered capital of more than US$146.1 million and 5 domestically invested projects worth nearly VND 394 billion in total. Besides, the existing 5 investment projects raised their capital with a total additional sum of US $ 9.4 million.
During the 3-month period, there were 776 newly registered enterprises with a total registered charter capital of more than VND 6,000 billion. Overall, there was a slight decrease in the number of businesses in the city, and a rise of more than 23% in the amount of capital businesses use to operate, compared with the same period of the previous year.
Exports and tourism returning to growth
Prospects have improved in the first quarter of 2021 with signs of a rebound in imports and exports of the city, and the attraction of domestic and foreign invesments, thereby creating a positive signal for the city's economic growth in the remaining months of the year.
Data published by the Da Nang Statistics Bureau, the first three month of this year saw a significant hike in total value of Da Nang exports and imports worth an estimated US$ 666.6 million, up 5.2% compared with the same period of the previous year. In which, exports from Da Nang went up 1.8% over the same period to hit US$357 million USD, and the city's imports were estimated to be worth US $309.5
Transportation, hospitality and services industry in Da Nang are still facing many difficulties. However, there was an estimated increase of 14.4% over the same period in the freight transportation services.
Da Nang continues its efforts to launch new campaigns to promote tourism, with a focus on developing new tourism products. In addition, the local authorties have issued policies which were focused on stimulating demand, especially in travel and tourism. As a result, retail sales in Da Nang jumped by nearly 17% to reach more than VND 16,200 billion. The accommodation and food service sector generated a turnover of an estimated over VND 4,000 billion, up 1.3% over the same period last year.
By the end of March, total State budget collection in Da Nang was estimated at more than VND 6,000 billion VND, presenting nearly 28.5% of the estimates set by Viet Nam's national government. In which, domestic revenues climbed by nearly 8%, and total value of the city's imports and export jumped by nearly 40% over the same period last year.
Da Nang government has taken drastic actions to accelerate key projects such as a waste treatment plant at the Khanh Son landfill, a ring-road system in the west and south connecting National Highway No 14B and the Ho Chi Minh Trail, new Hoa Lien Water Plant.
Vietnamese Prime Minister has approved many important orientations, mechanisms and policies, along with adjustments to the Da Nang Master Plan for its major development goals to 2030, with a vision to 2045. This will help Da Nang to build a strong foundation to promote sustainable development in the coming time.
New effective measures taken to give fresh impetus to attraction of foreign investment
Mr. Pham Dinh Thanh Hoang from Da Nang Department of Planning and Investment said that the impact of the COVID-19 pandemic and declining global economy has pushed Da Nang to introduce a number of effective policies to attract foreign investment in the coming time. These included continuing to increase the degree of openness in the financial sector and land.
Da Nang is also focusing on creating new developments in infrastructure, making sure that vacant land fund is available for investors to rent in order to attract domestic and foreign investments into the three key pillars of the city's economy, namely tourism, high-tech industry, and marine economy.
In addition, great importance is attached to accelerating such projects as Software Park No. 2, Digital Transformation Center, and the 2nd phase of a pilot project on turning Hoa Khanh Industrial Park into an eco-industrial park.
Mr. Nguyen Duc Lap, Director of the Institute of Real Estate Research and Training, said that Da Nang has recently reduced the price level of commercial land and premises between 80% and 70%, and between 60% and 50% for land used for business and production purposes. This will bring benefits to the business community in Da Nang, especially in attracting domestic and foreign investments.
(Source: https://baodanang.vn/english)