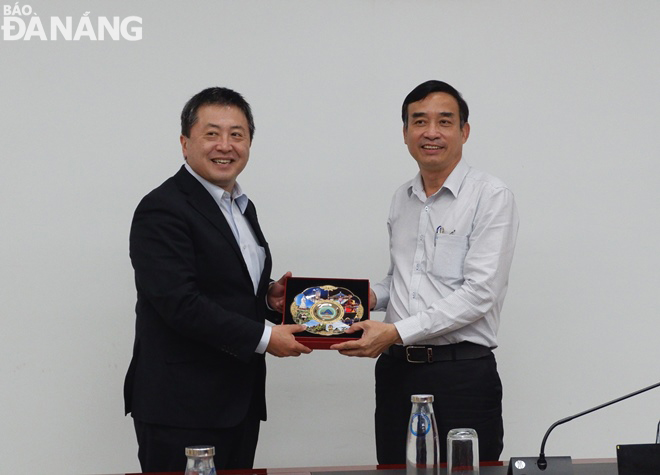 Da Nang People's Committee Chairman Le Trung Chinh (right) presenting a momento to JICA Chief Representative in Viet Nam Shimizu Akira during their meeting on Tuesday
Chairman Chinh highly appreciated JICA for boosting bilateral cooperation and offering technical assistance to Da Nang for the implementation of some major project in the city over recent years.
Notable amongst them are the Data Collection Survey on the Development of Lien Chieu Port under the Public-Private Partnership (PPP) form, the feasibility study of the Hoa Lien Water Plant project, the Da Nang waste treatment project, water environment improvement project to the east of the city (using underground pipe jacking technology for drainage system and upgrading wastewater treatment stations), the second stage of the Tien Sa Port upgrading and expansion, waste sorting at source across the city, the first stage of the Hai Van Tunnel, and financial support for organising a trilateral cooperation forum involving JICA, Yokohama and Da Nang.
JICA's technical assistances, in fact, have contributed to supporting Da Nang to access advanced technology, and strengthen its capacity to implement its key projects.
Besides, Da Nang is now in need of more funding from JICA to carry out the three cooperation proposals adopted in 2020, namely the relocation of the Da Nang Railway Station and urban redevelopment, the research into the city's socio-economic development planning, the enhancement of climate change response capacity.
In addition, the city is expecting for JICA's support in implementing the pre-feasibility study of the would-be Lien Chieu Port project in the PPP form.
JICA is also suggested to support the research into zoning planning and the urban design of Lien Chieu District, the building of a synchronous infrastructure for sustainable economic development when Lien Chieu port is put into operation, and identifying key infrastructure projects eligible for Japan-offered ODA capital in the time ahead.
The host proposed that JICA provide Da Nang students and pupils who have a good proficiency in Japanese with scholarships for studying in Japan, in tandem with offering more intensive training to local teachers specialising in Japanese from three senior and two junior high schools.
For his part, JICA Chief Representative in Viet Nam Shimizu Akira expressed his agreement with the aforementioned proposals made by Da Nang. The Japanese agency is willing to help Da Nang propose potential projects for the reception of the Japanese government-provided ODA capital.
(Source: https://baodanang.vn/english)