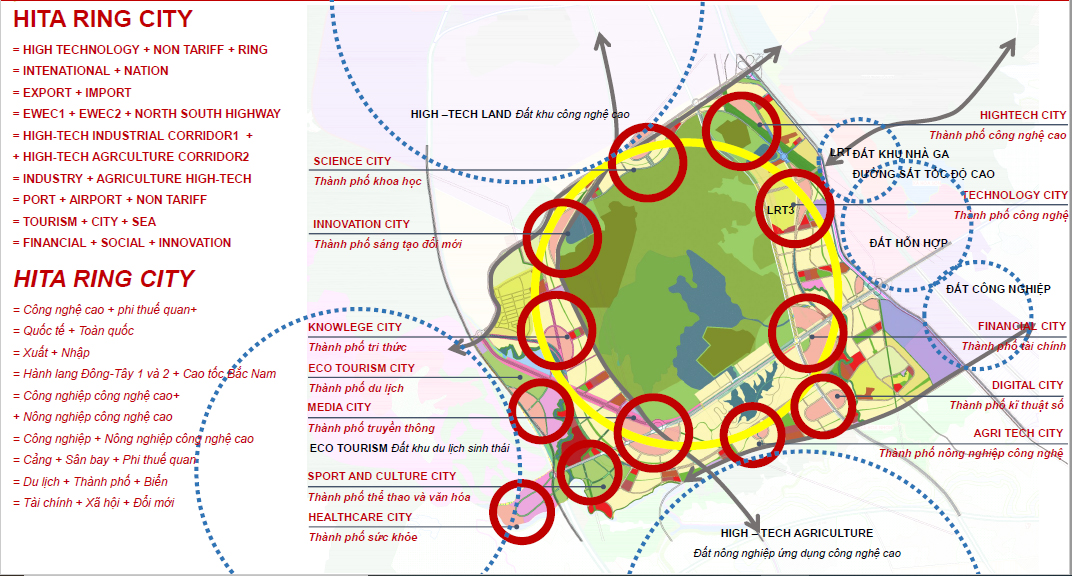 The design for the urban structure development in the hillside sub-division under the Da Nang Master Plan Photo: TRIEU TUNG
The urban hillside sub-division is planned and proposed by the sponsoring unit with the target of turning the hillside into a mixed-use multi-service urban area.
This sub-division will border DT602 road to the north, Hai Van southern bypass to the east, parts of Highway 14G and Ba Na - Suoi Mo route and the communes of Hoa Ninh, Hoa Son, Hoa Nhon, Hoa Phu and Hoa Phong in Hoa Vang District to the south.
The sub-division has a research area of 2,729ha for development with a population of 235,000 and the capacity of handling 35,000 visitors, along with high-rise buildings of up to 25 storeys, with high land use coefficient and low construction density to ensure visibility towards mountains to the west.
The proposed planning solution is to increase residential land by 28.5%, commercial and public service land with 12.2%, park areas, trees, water surface with 24.8%. As for current residential land, the rate of civil land use accounts for 43.3%, whilst non-residential land 14.5% and other land types 42.2%.
The hillside city planning features a compact, multi-functional urban centre system. The urban structure forms mixed centres and a chain of functional parks, with the development of the high tech, science, technology, innovation, knowledge, financial, eco-tourism, media, digital, culture and sport, agri-tech and healthcare cities.
In the idea of planning the spatial organisation of landscape architecture, in addition to ensuring the utilities of urban infrastructure, the hillside sub-division will see the formation of four cities (innovation, high technology, finance and communications), four key parks (innovation, high-tech, international and media parks) and two ecological zones (energy and smart).
The nature of the so-called 'hillside city' is an international-standard, high-tech city. Commercial development planning in the hillside sub-division also highlights shopping streets, commercial centres, supermarkets, traditional markets, duty-free shops and non-tariff areas.
In the 'hillside city', there will be many mixed centres, media museum, training and research centres, eco-villas, canal landscape, light shows, musical festivals, racecourses, sports training schools, stadiums, commercial centres, performance stages, stone sculpture gardens, rainbow flower gardens, mixed towers, office towers, high-tech hotels, high-tech shopping streets, pedestrian streets and other facilities.
In particular, there are four resettlement areas, with an estimated total area of 44ha and two social housing apartment complexes covering a sum of 45.2ha.
With regard to the development of infrastructure planning in the direction of ecological landscape, ecological architecture and materials, Da Nang will give its priority to using use of solar, wind and water energy sources, and developing a smart city boasting smart infrastructure, environment, architectural planning, tourism, activities and community.
In addition, technical infrastructure will connect the current city's transport infrastructure and develop more cable cars and road transport routes with an additional electric bus system and self-propelled vehicles, along with 5G generation information and telecommunications systems.
As for its economic development orientations, the hillside urban area will follow the goal of forming a 'non-tariff, logistics, international import-export city' serving as a driving force for the development of export goods and international investment attraction.
Importance will be attached to developing the fields of high technology, digital and international communication as a premise for the development of a regional economic centre and forming an international 'Silicon valley 4.0', which is seen as the driver of the development of the IT industry and smart city model.
The development of the 'hillside city' of global stature as an international city aims to create a financial hub so as to support the development of Da Nang and Central Viet Nam at large.
(Source: https://baodanang.vn/english)