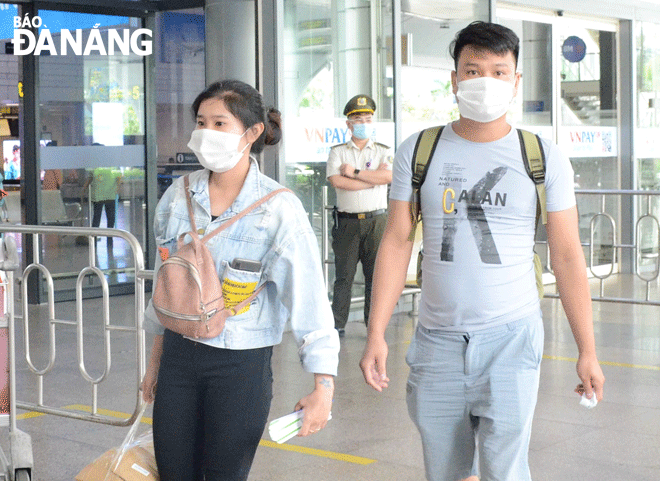 By hosting the Routes Asia 2022, Da Nang will have a good opportunity to advertise its tourism images to international friends, thereby driving its post-pandemic tourism recovery. In the photo, taken by CAO MINH: Visitors at the Da Nang International Airport in April 2021.
Co-hosted by the municipal People's Committee and the Imex Pan Pacific Group (IPPG), the event, the first of its kind in Viet Nam, is expected to attract more than 1,000 delegates who are representatives of airlines, travel companies and media agencies globally.
The international event will open up a big opportunity for Da Nang to rise to fame as an attractive destination for tourists and investors from both home and abroad, thereby driving the growth for the aviation and tourism industries of the city, and the country as a whole.
In the coming time, Da Nang officials will directly work with representatives from the IPP Travel Retail under the Imex Pan Pacific Group to make preparations for the upcoming official announcement of Da Nang as the host city for Routes Asia 2022 in Milan (Italy).
Also, in December 2021, IPP Travel Retail and Da Nang will together join a deal with the Informa Routes Company to promote the advertisement of Da Nang's tourism images and its investment environment to friends in the Asia Pacific region, and worldwide as well.
Additionally, IPP Travel Retail will be responsible for conducting marketing campaigns, aimed at enhancing the reputation and attractiveness of the international event and Da Nang as well.
Deputy Director of the Da Nang Department of Tourism Nguyen Xuan Binh remarked thatby being a host for Routes Asia 2022, Da Nang would have the opportunity to boost its socio-economic development stride. The event would create an important premise for the city to build strategic relationships and find suitable and potential partners to drive the development of the local tourism and aviation industries in the future.
"Da Nang will take advantage of the event to advertise its beautiful tourism images to international friends, thereby reaffirming Da Nang' stature as a safe and inviting destination in Viet Nam and increasing visitor arrivals in an attempt to drive post-pandemic tourism recovery" said Mr Binh.
The Routes Asia is the only route development event dedicated to the Asia Pacific region. First held in 2003, the annual event provides the perfect platform for event attendees to expand your connections and discuss air route development opportunities with many airlines, airports and tourism agencies in the region and around the world.
Localities that have hosted the Routes Asia event in recent years are Sarawak State, Malaysia (2012), Kunming, China (2015), Manila, Philippines (2016), Okinawa, Japan (2017), Brisbane, Australia (2018) and Cebu, the Philippines (2019). Most notably, the Routes Asia 2019 in Cebu, the Philippines, saw the participation of over 1,000 delegates and 25 speakers from more than 60 countries and 113 international airlines.
(Source: https://baodanang.vn/english/)