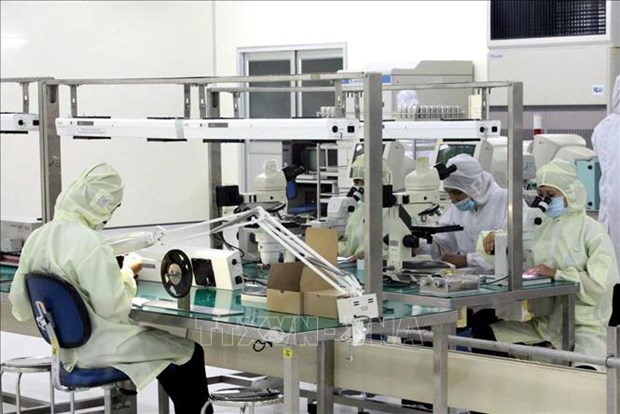 An electronic component factory in the Vietnam-Singapore Industrial Park No. 2 in Binh Duong province. — VNA Photo
An online Việt Nam-Singapore investment promotion conference was held on September 17 with the participation of 500 enterprises from over 80 Singaporean business associations and chambers of commerce around the world.
The event, held by the Vietnamese Ministry of Planning and Investment in coordination with the Vietnamese Embassy in Singapore, the Singapore Manufacturing Federation (SMF), and the Singapore Business Federation (SBF), took place amid global enterprises' restructuring of production and supply chains so as to avoid overdependence on a single country or partner and seek safer and more effective investment destinations.
Participants in the meeting were updated on Vietnam's investment climate and readiness to welcome a new wave of foreign investment; the country's policies for developing ecosystems for industries, especially electronics, textile-garment, automobile, and food processing; along with digital transformation and smart city development.
Some orientations for more sustainable cooperation between the two countries amid the complex global economic situation were also shared.
Deputy Minister of Planning and Investment Trần Quốc Phương said facing the COVID-19 pandemic, Việt Nam still persists in proactive and effective solutions to concurrently contain the outbreak and develop the economy.
He affirmed that foreign investors, including Singaporean ones, will have more opportunities to invest and do business more successfully in Việt Nam as the country's legal framework is constantly improved, channels connecting the domestic and foreign markets are being expanded, and the Vietnamese Government, ministries, sectors, and localities are determined to improve the business environment.
The Vietnamese Government encourages Singaporean firms to invest in the hi-tech industry, set up innovation and R&D centres, develop industrial park infrastructure, and take part in the equitisation of State-owned enterprises, among others, Phuong added.
At the conference, participants shared the view on Việt Nam's growing role in the international community and that the country is a safe and attractive investment destination for Singaporean businesses in the post-pandemic period.
SMF President and SBF Vice Chairman Douglas Foo said as both countries are ASEAN members joining in certain free trade agreements, including the Comprehensive and Progressive Agreement for Trans-Pacific Partnership (CPTPP), their companies will secure more chances to capitalise on advantages and bolster investment and business activities.
Source: vietnamnews.vn