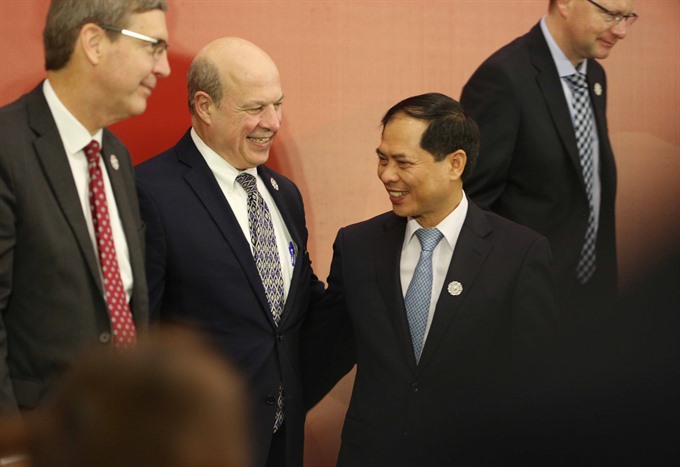 Chair of 2017 APEC Senior Officials' Meeting (SOM) Bùi Thanh Sơn (right) speaks to CSOM participants on the sidelines of the meeting. — VNA/VNS Photo
A number of strategic documents that orient long-term co-operation within the Asia-Pacific Economic Co-operation (APEC) region over the coming decades will be presented to the bloc's ministers and leaders this week, according to Chair of 2017 APEC Senior Officials' Meeting (SOM) Bùi Thanh Sơn.
He told local and foreign media at a press conference at the end of the Concluding Senior Officials' Meeting (CSOM) on Tuesday that participants had reached a consensus in this respect.
"CSOM is of significance as it sums up final preparations in terms of content for the 29th APEC Ministerial Meeting [on Wednesday] and the 25th APEC Economic Leaders' Meeting [on Saturday]," said Sơn.
"Content of the documents is attached to the APEC Year 2017's theme - Creating new dynamism, fostering a shared future - and priorities," said Sơn, permanent Deputy Minister of Foreign Affairs.
The four priorities focus on sustainable, innovative and inclusive growth; regional economic integration; macro, small and medium-sized enterprises; and food security and sustainable agriculture.
After one and a half days of work, CSOM also achieved a number of main outcomes including the approval of reports summarising activities of the four APEC committees on trade and investment, economics, economic and technical co-operation.
"The reports show the positive progress of members in the implementation of action plans and programmes of APEC, particularly in the development of human resources and education co-operation, accelerating inclusive and sustainable development, promoting women's economic empowerment; and enabling micro, small and medium enterprises to integrate into the global market," the 2017 APEC SOM Chair said.
He noted that the fourth and final SOM of 2017 discussed efforts to maintain open and free trade and facilitate investment, with quite a few participants expressing their support for multilateral trade systems.
"The senior officials approved the roadmap on internet and digital economy to be reported to APEC ministers," Sơn said, adding that member economies spoke highly of Việt Nam's initiative of facilitating cross-border e-commerce, and furthering members' capability in the supply chain and fostering the supporting industry in Asia-Pacific with the aim of maintaining regional economic integration and linkage.
Human resources for 4.0
"As the whole world and the region are entering industry 4.0, economies in the region must take advantage of the industrial revolution and manage to accommodate themselves in that context," Sơn said when asked about APEC's preparations for challenges in regard to human resources in the digital age.
"In this regard, there are numerous initiatives related to the development of human resources in the digital age to prepare for industry 4.0," he added.
However, Sơn said unequal development among member economies as well as impacts of the industry would likely leave behind groups of people or localities that fail to catch up with the trend.
Home to 2.9 billion people or 39 per cent of the global population in 2016, the APEC region had a combined nominal GDP of US$45 trillion in 2016, accounting for 60 per cent of global GDP.
APEC's GDP per capita for 2016 was $15,754, and ranged between $2,173 to $57,436. The latest APEC macroeconomic indicators show that there was a wide variation with Australia; Singapore; and the United States having a GDP per capita above $50,000 and Indonesia; Papua New Guinea; the Philippines; and Việt Nam having a GDP per capita below $5,000.
"The development levels of member economies vary, thus, it is necessary to continue accelerating liberalisation of trade and investment. How slow or rapid the process is will depend on each member economy, so we need to promote exchanges," said Sơn.
With that in mind, he emphasised the reason why one of the host's priorities for APEC 2017 targets inclusive social, financial, and economic development. - VNS
(vietnamnews.vn)